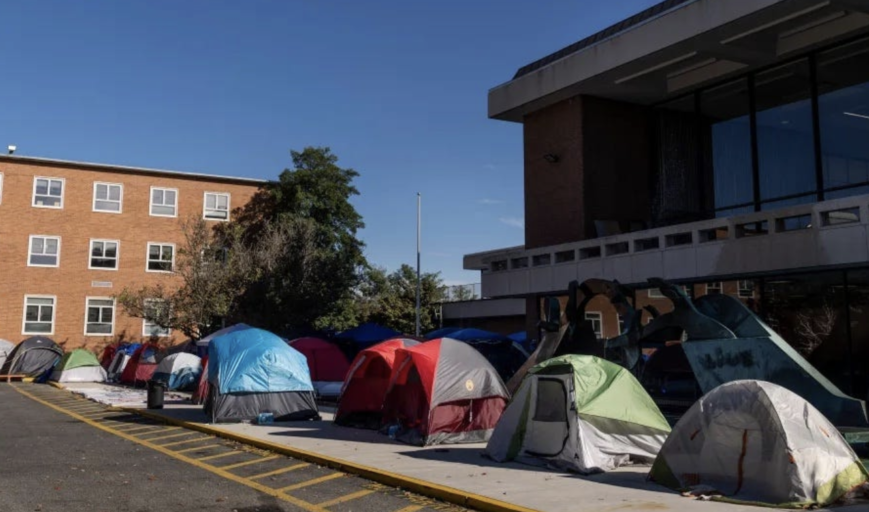 Are Dorms Doomed? The Rise in Mold-Infested Colleges Across America
If the events at Howard University are any indication of the future of student housing, then every prospective college student and parent needs to pay close attention.
In an article by CNN, Jasmine Joof, a Howard University sophomore told reporters that she had been sick with congestion, coughing, and headaches for several weeks after discovering the mold growing in her dorm room.
Howard University is one of a myriad of colleges across America that have dealt with or are currently contending with mold issues. Media outlets aren't quick to share these stories and when they do, these stories are scrubbed off the internet shortly after. This is due to the influx of mold claims, which has the potential to severely affect the industries that insure these water-damaged buildings. It also shines a negative light on universities, which could affect admissions.
It's unfortunate to hear stories of students fighting to have their basic needs met, but this problem is only going to grow worse because the institutions of higher education are ignoring the fact that their buildings are affecting student health.
If this doesn't get addressed, then colleges and universities will be added to the list of many looking to dismiss one of the biggest epidemics plaguing our society today — exposure to toxic mold.
A Parent's Nightmare
According to this NY Post, in her first semester at College Park School, Olivia Paregol and other students noticed mold growing in their dorm rooms. She developed a cough, which later turned a corner for the worst outcome any parent could imagine. "'They had put in a dehumidifier, and the heat had finally turned on and the mold seemed to go away, but it was a good two-and-a-half months,'" she told the outlet. Eventually, Olivia acquired pneumonia and died at John Hopkins Hospital from adenovirus. Olivia's father, Ian Paregol, also claimed his daughter's room had mold.
The university health officials said that they stepped up their cleaning efforts, but beyond that, there was no concrete evidence of any kind of remediation.
Expert in Occupational and Environmental Medicine, Dr. Eckhardt Johanning and his research team, identified that prolonged exposure to toxigenic fungi was associated with reported disorders of the respiratory and central nervous systems, mucous membranes, and a few parameters pertaining to the cellular and humoral immune system were discovered, suggesting a possible immune competency dysfunction. This along with many other studies that show the damaging health effects of toxic mold really puts things into perspective with what parents need to look out for.
A Notice to Parents: What Can You Do to Help Your Student?
If you are a parent who has a child going to college, it's important to stay on top of what colleges are doing about mold in housing.
If you find that within your child's first semester, there's been a change in behavior, such as irritability, anxiety, depression, or a general decline in health, please take into consideration your child's living conditions and that of the school. I repeat, if you see a change in your child's health and behavior, do not dismiss it as stress from school and life demands.
Mold can cause severe health issues, and if not addressed early on, these issues can only become worse or permanent. If your child is in an unsafe environment, it is best to remove them immediately until the school has made the attempt to correct the effort — correcting the effort means removing the source of the mold growth, not just cleaning it.
If your child returns to school and their health symptoms continue, even though the school claims to have addressed the mold issue, trust your child's health symptoms and look into remote learning options. Your child will thank you in the long run for this decision.
If you find other parents dealing with sick children in their dorms and the school they are attending is doing the bare minimum, or nothing at all, to resolve the issues, it may stand to benefit to unite with these parents and demand the mold problem be resolved. As seen in Howard University's housing incident, students protested for months, took to the media, and hired a team of lawyers that lead them to victory.
Reported Mold Issues in Universities Across America
Below are 12 mold-related stories from some of America's most sought-after colleges and universities. It is clear that more needs to be done to ensure the health and safety of the students that will become the future of this nation:
1. Student death from University Maryland, College Park, 2019.
2. Rutgers Hit With $10M Suit Over Dorm Mold Illness, 2023.
3. Mold in Dorms at Sacred Heart University in Connecticut, 2021.
4. 47 cases of mold discovered at Texas colleges since 2018 that required reporting to state, 2018.
5. University of North Carolina at Charlotte, 2023
6. Hundreds of students struggle with mold in campus dorms, USC system unfit to analyze reports, 2023.
7. Howard University students protest mold, rodents in campus dorms, 2019.
8. Students continue to voice allegations of unsafe living conditions in UCLA housing, 2023.
9. Kentucky universities plagued by mold problems, 2018.
10. There needs to be some sort of accountability: Former OU student sues university over mold exposure, 2022.
11. U.Va.'s response to mold in first-year dorms is unacceptable, 2022.
12. University of Florida's Rawlings Hall: Mold-Related Sickness and Viral, "Horror in Bathroom," 2021.
Mold in the Media: Articles Scrubbed
With the use of ChatGPT, a member of our organization was able to undercover 52 separate university mold incidents and to our surprise every single link was broken. However, even if the links don't navigate to a page, the link themselves are archived in the internet's history, meaning, they were once active and existed on the web.
It's apparent that the issue with mold and student housing is a sensitive one. For universities, there is a lot at stake, and the fact that we are moving to more of a digital academic landscape, the once prized institutions of in person higher learning are slowly becoming obsolete. However, there is no excuse for keeping silent and deliberately hiding the seriousness of toxic exposures that can harm our children.
Exposing Mold 501(c)(3)
Our organization, Exposing Mold is dedicated to helping families navigate mold illness and hypersensitivity. It's unfortunate that modern medicine routinely ignores the dangers of toxic mold and its effect on humans. Our popular podcast with over 100+ episodes and 80k downloads from top researchers, doctors, and scientists is a great place to start!
Environmental Health Organization — Exposing Mold
Exposing Mold is a nonprofit foundation and watchdog group that provides honest information, education, & direct…exposingmold.org
Writer: Anand Swamy, VP of Growth, Exposing Mold 501(c)(3)
Sign up for our newsletter to receive our blogposts in your inbox.